Three companies bid for Morocco's Nour Midelt solar power complex
2018.01.17 From: Yabiladi.com
ACWA, Engie and EDF have answered the tender launched to build the Nour Midelt solar power complex. The project is part of Morocco's plan to increase the part of renewable energies in the energy mix.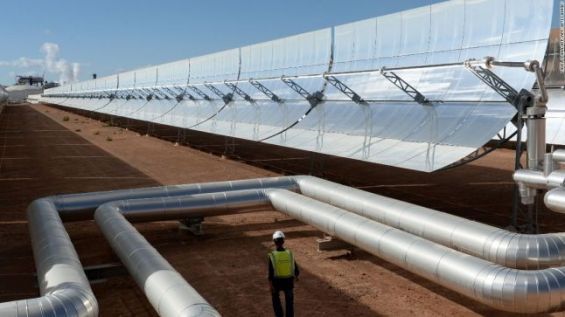 Three companies bid for Morocco's Nour Midelt solar power complex./Ph. DR
It is officially announced now, three groups have answered the tender launched in December by the Moroccan Agency for Sustainable Energy (Masen), a state-owned company. ACWA Power, Engie SA and EDF Energies Nouvelles are expected to build the Noor Midelt solar power complex, a project consisting of two 400-megawatt facilities.
Saudi Arabia's ACWA Power International and the two French companies will have to manage the «engineering, procurement and construction» of the facility, Obaid Amrane, a member of the Masen's management board said in an interview quoted by Bloomberg.
The project, which is considered as the first complex that specifies hybrid plants including both CSP and PV, is to be built in a timescale of 1 to 2 years. According to the same source, ACWA confirmed its bid and promised to submit a financial proposal by April or May, and Engie made the same pledge. Meanwhile, EDF Energies Nouvelles has refused to comment on the project.
Investing in renewables
Speaking about the same project, Obaid indicated that the initiative's aim is to establish a 6-gigawatt renewable energy capacity that would include solar, wind, and hydropower by 2020. Through Nour Midelt, Morocco is relying on the growing use of renewable sources for energy.
The project which is part of the Noor Solar Plan, aiming to produce a total capacity of 2,000 MW and whose first phase was already launched in Ouarzazate, is to include two hybrid concentrated solar power and photovoltaic plants, explained Helioscsp, a solar thermal energy online portal. The Nour Midelt solar plant is to be built on a 3,000 hectares and 25 kilometers area.
For the record, the Kingdom is trying to produce 40% of its electricity from renewables relying on projects similar to the Nour complex.
Relevant CSP Conference:2018 CSP Focus Conference(March 22-23 Beijing)

2022.04.21-22 Beijing

2021.10.28-29 Beijing

2020.10.22-23 Beijing, China